MIGNONNE GAVIGAN x YIN 2MY YANG
We are absolutely obsessed with the gorgeous jewelry brand/designer Mignonne Gavigan. We love it so much that we decided to dedicate an entire post to the intricate and beautiful designs of the brand's collection. The work and intense attention to detail that Mignonne (also known as Maggie) puts into making these beautiful pieces should not go without notice.
Here's to sharing the beauty of her brand and her pieces with all of you!
THE 'LAYNE' CHOKER
Check out Char sporting this gorgeous neck piece, the 'Layne' choker in black, while Soph sports the same piece in grey. Both equally beautiful & elegant with stunning embellishments - making this piece one that can spice up the simplest of outfits. This extra thick choker is unique and like one we've never seen before. It's one of our fave Mignonne Gavigan pieces hands down!
THE 'LAYNE' CHOKER: Handed beaded and hand braided silk chiffon choker necklace with metal beading. Triple covered snap closure at back. 13.5" length. 3.5" height top-to-bottom.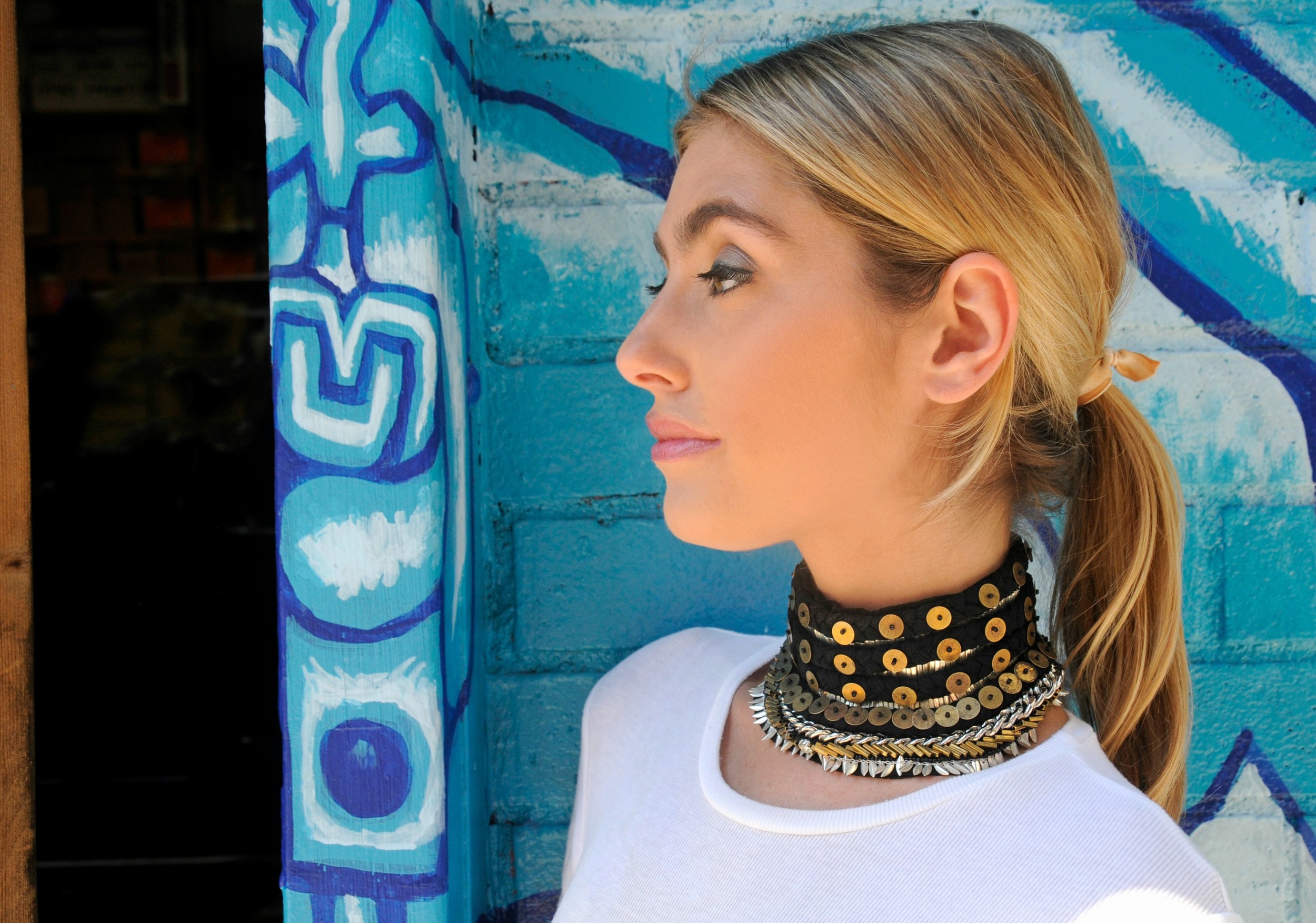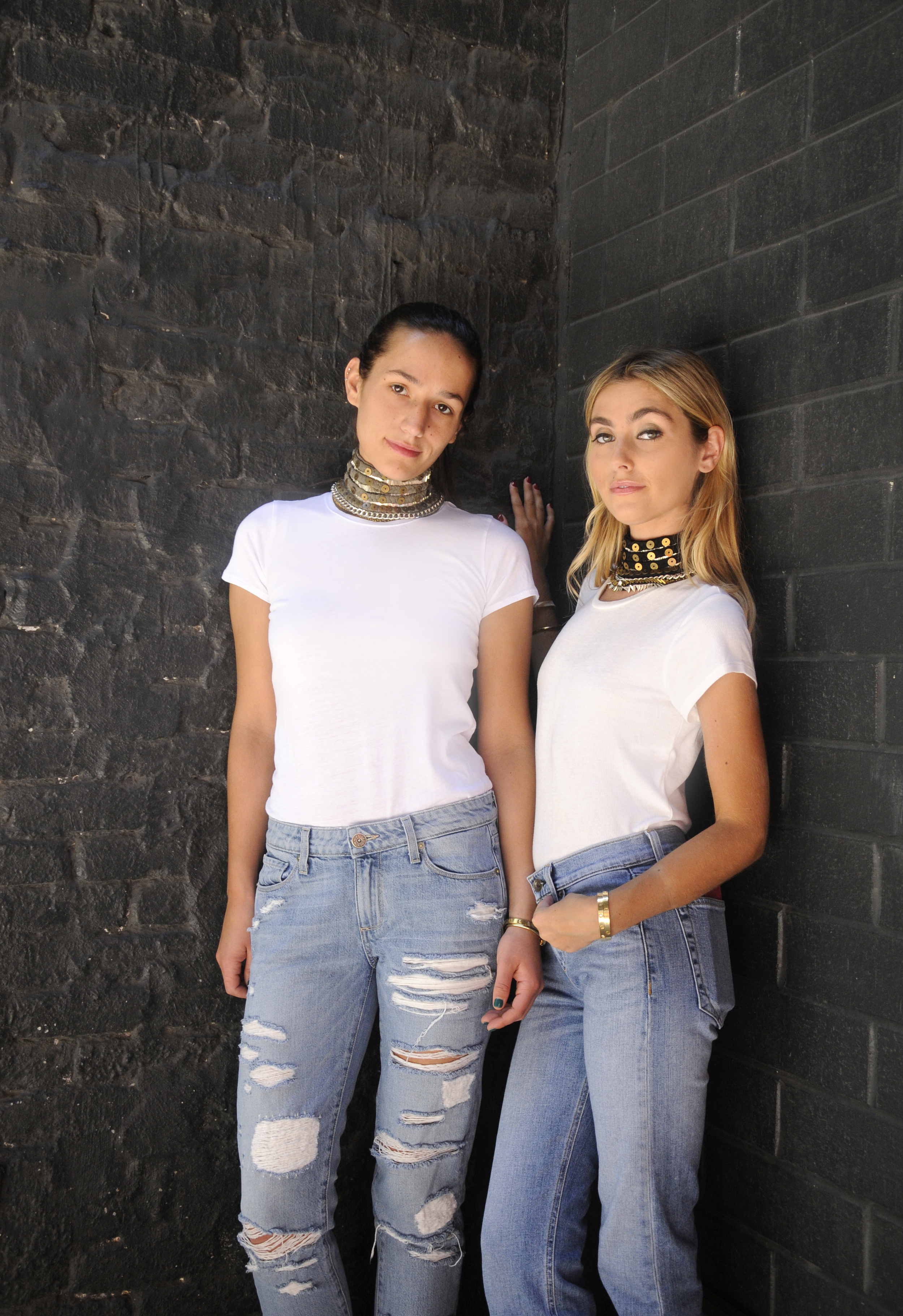 THE 'LOLLIE' CHOKER
A fan of anything bright colored, Sophie wears the 'Lollie' choker in pink, orange, and black. The PERFECT color combo for a choker to rock in the Spring/Summer - while on a vacay in the tropics or simply strolling around NYC.
THE 'LOLLIE' CHOKER: Silk chiffon braided choker necklace. Covered snap closure. 14.5" length.
THE 'AUDREY' EARRINGS
A fan of any bold statement earrings, Charlotte rocks the absolutely stunning 'Audrey' earrings in black multicolor with pom poms and back leather fringe ...making a statement indeed.
THE 'AUDREY' EARRINGS: Earrings with multicolor cotton pom pom and leather fringe. Polished rhodium post back. Length: 6" top to bottom. Pom Pom: 1" diameter. Fringe Length: 4". Weight: 0.8 oz.
...THE ABOVE PIECES LOOK GREAT PAIRED TOGETHER TOO!
We are hooked on the Mignonne Gavigan brand & hope that after reading this post you'll get hooked too!
Check out our Shop page to shop our featured pieces & see below for a few other Mignonne Gavigan pieces we love. It was a real struggle to pick out only a few of our faves because, to be honest, we ADORE every single piece the brand carries. This brand is truly a hidden gem and we feel #blessed we got to rock their stellar pieces.
Hoping everyone had an amazing weekend & wishing everyone a stupendous week ahead!!!
P.S. CAN YOU BELIEVE IT IS ALREADY ALMOST AUGUST!? We can't. <3
OTHER MIGNONNE GAVIGAN LOOKS WE LOVE