WALK THROUGH IVY PARK
In the promotional video for her AMAZING new athleisure line, IVY PARK, Beyoncé asks: "Where's your park?" - This past Sunday in NYC, we found OUR park roaming one of the coolest spots in the West Village. Sporting some of our favorite pieces from Beyoncé's IVY PARK line, aimed at "women who sweat", and surrounded by the beautiful brick buildings and cobble stone streets of the West Village, we can happily say that it was a Sunday well spent :)
SOPHIE'S LOOK:
It's FINALLY warming up here in NYC which means that any type of athleisure clothing that I'll be wearing needs to be light and sweat proof. I love bodysuits and when I saw this black IVY PARK logo bodysuit I was instantly obsessed. Paired with the black IVY PARK high-waisted capri leggings, the blend of black almost made my outfit look like one cohesive bodysuit. Please note: these leggings are AMAZING. They are so, so comfortable and the high-waist factor makes them absolutely perfect for working out or for a leisurely Saturday running errands around NYC. The capri length of these leggings and stretchy material make them super light, perfect athleisure wear for the Spring and Summer seasons.
I finished off my all black IVY PARK look with my Komono 'Vivien' sunglasses and the coolest slip-on sandals I've ever laid my eyes on --> the FENTY PUMA by Rihanna furry sandals in white - sadly, these are completely sold out right now *cough, cough- I got mine on eBay- cough, cough*... but fingers crossed they make a comeback soon!!! [BIG SHOUT OUT to my friend who works in a Miami sneaker shop- he told me that I absolutely HAD to get my hands on these shoes- he was 100& right!] These sandals are different and give an edge to my outfit with the white fur, a clear sign of Rihanna's creativity behind their design. P.S. They also came in baby pink and black!
This Rihanna x Puma collaboration is one of the many examples of a current and popular trend in fashion right now. This trend being public figures - such as singers, actors, professional athletes, celebrities, etc. - teaming up with brands and/or designers to produce unique and exclusive lines for their customers and fans - or even making lines of their very own...just like Beyoncé and IVY PARK. I have a feeling this trend won't be going away anytime soon....
// IVY PARK Logo Bodysuit // similar IVY PARK Logo Bodysuit linked
// IVY PARK Capri Leggings in Black
CHARLOTTE'S LOOK:
Like Sophie's obsession with the IVY PARK logo bodysuit, I had an instant connection when I laid my eyes on the black IVY PARK logo sheer mesh hoodie. Like Sophie mentioned, the comfort level of the IVY PARK leggings is unreal...instead of sticking with an all black look, I decided to add a pop of color to my outfit and wore the electric blue IVY PARK capri high-waisted leggings.
With a sports bra underneath my hoodie, I didn't need much else to complete my sporty look and decided to add a little high-end fashion, wearing a pair of black rounded Chanel kicks. The perfect outfit for athletics OR leisure, Beyoncé truly exemplifies the meaning of what athleisure clothing SHOULD be through her IVY PARK line.
// IVY PARK Capri Leggings in Blue
// Chanel Rounded Sneakers // featured Chanel sneakers are no longer available // similar Chanel sneakers linked
"I HOP UP OUT THE BED AND GET MY SWAG ON..."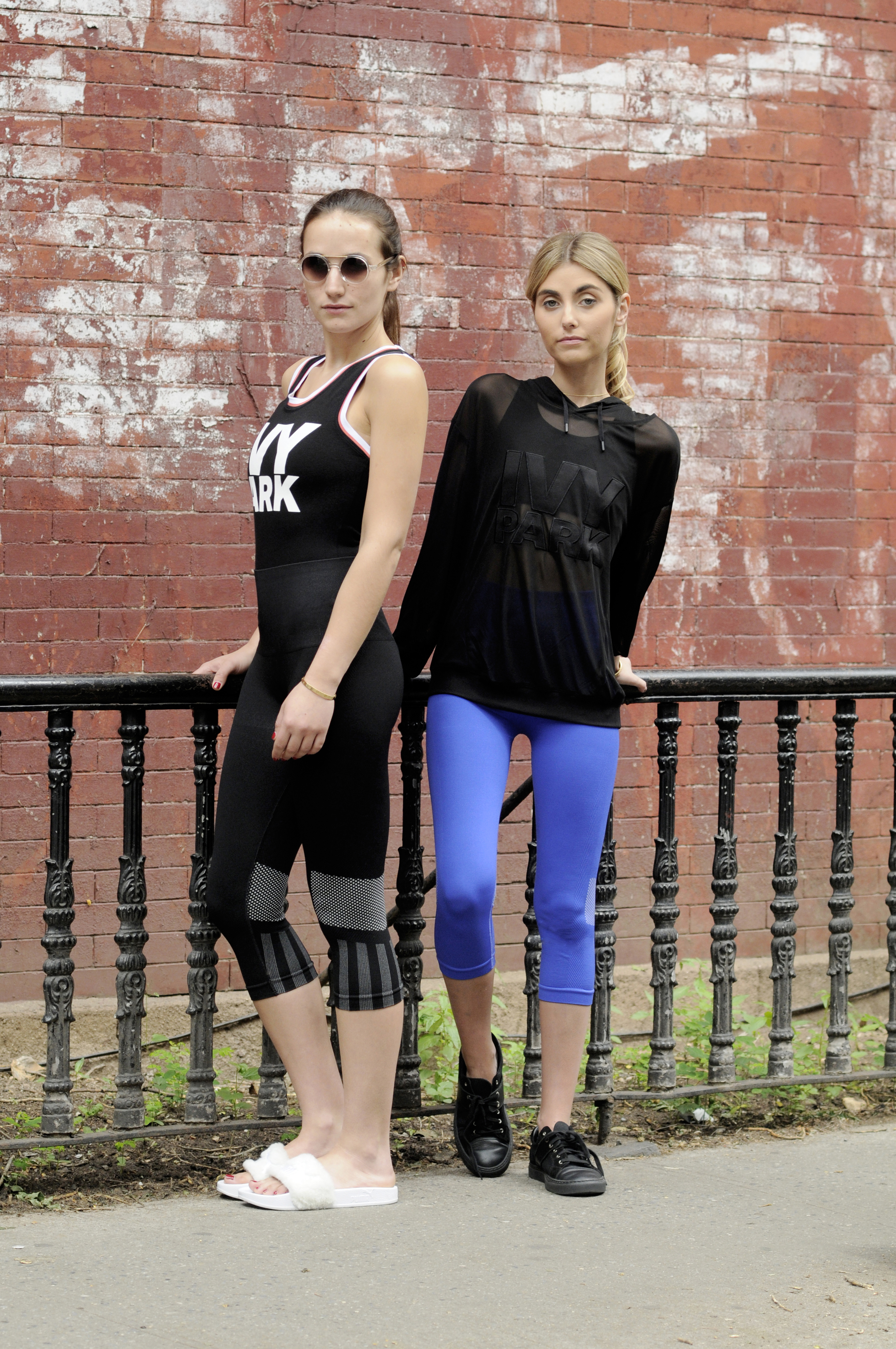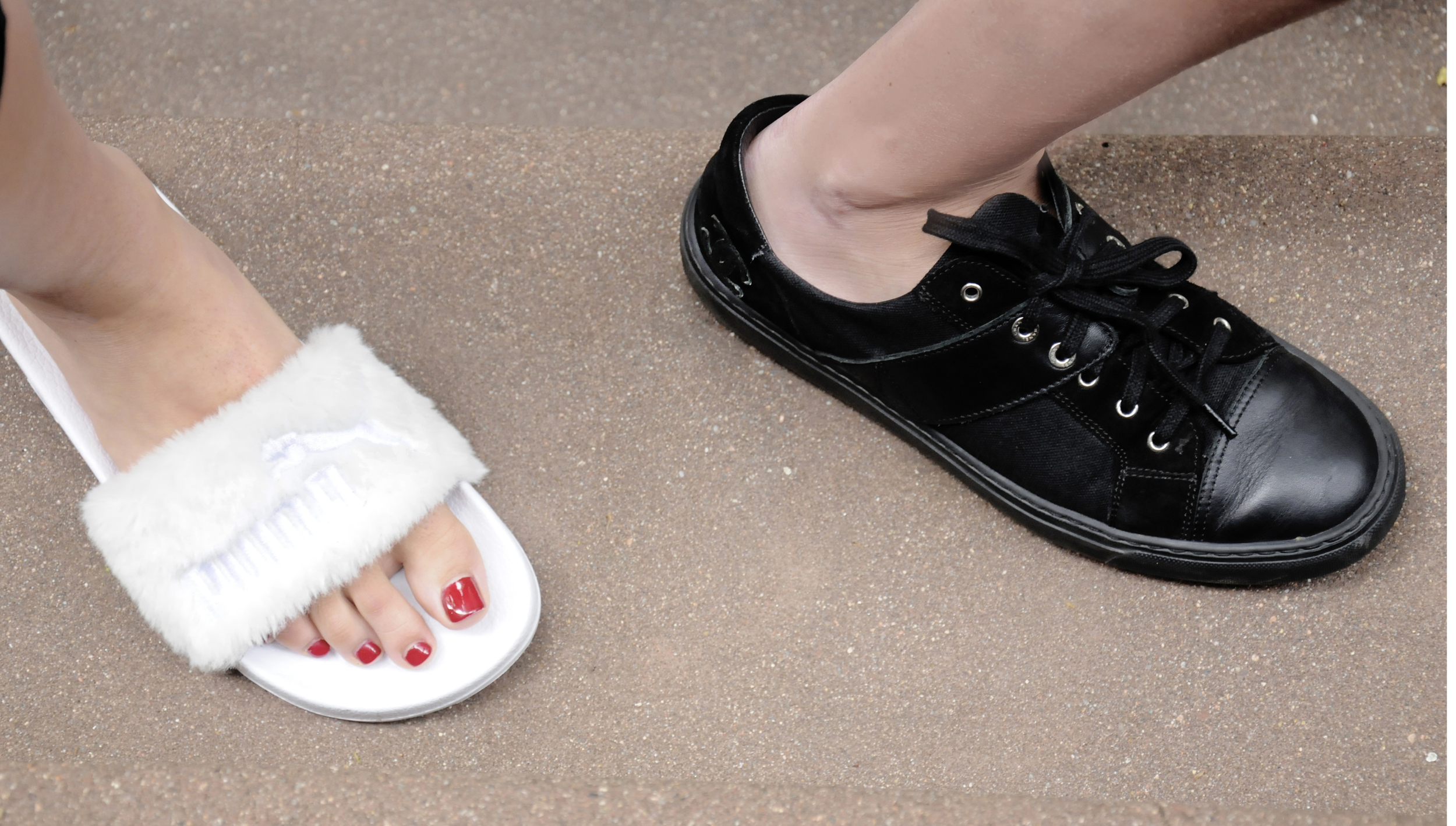 & after our day of snapping pics and strolling through this West Village hood, we were thirsty for some Lemonade ;)
Check out some other IVY PARK looks we love below and visit our Shop page to shop our featured looks.
Also, be sure to stay tuned for future posts featuring celebrity lines and/or collaborations just like this fabulous one!! They're all the rage right now and we are LOVIN' it.