CLAD IN PLAID: COACH GETS RETRO
While frolicking around Columbus Circle recently, we walked into the Coach store & BOOM, our minds were blown! We instantly realized we HAD to dedicate a post to this year's Coach Fall collection. If you have not had the chance to check out this collection we speak of - amazing for BOTH women AND men - in Coach stores NOW, then you are SERIOUSLY missing out. Let this post be a testament to that. If you can't already tell, we are huge fans of Coach as a brand, and more importantly, huge fans of the jaw dropping revamping that Coach is (and has been) going through, since the hire of their current (and absolutely genius) Creative Director, Stuart Vevers, roughly three years ago.
If you haven't noticed this change, you must be blind... (sorry, not sorry) In the midst of all this change, Coach still sticks to it's original and authentic promise of premium quality leather and tell-tale signs of the brand, such as the classic turnlock (seen on our #twinning turnlock shoes) and of course, the classic horse & carriage symbol that has represented Coach as a brand since it's very beginning, iconic of the brand's name. While maintaining these traditional symbols of Coach as a brand, Stuart and his team have been slowly starting to incorporate new symbols into the brand's identity... like the female dino, named #RexyTheCoachDino, who can be seen in any Coach store window and on many of the Fall collection pieces. Not only has Stuart been incorporating new symbols with his Coach designs, he has also been incorporating entirely different fashion vibes to his collections, with hints of vintage and Western themes, we have been continuing to love this brand update. These fun and unique themes appeal to not only our personal styles, but also, our demographic and a younger audience then Coach usually targets. Props to Stuart for magically transforming this classic American brand into a modern, but still classically American, masterpiece!!!
In this post, check out the staple pieces from Coach's Fall collection that we decided to sport and the #twinning shoes we wore to match...feelin' oh so retro....
SOPHIE'S LOOK:
For my retro, Coach Fall collection staple piece, I went with this absolutely adorable and perfectly patterned long sleeve plaid Coach dress, with a beautiful abstract top and a scarf material plaid patterned green skirt on the bottom. I am in love with the beautiful details of this dress: the light pink collar, the oversized pearl buttons, and the intricate floral design that goes down the middle of the top. I have truly never seen anything quite like this dress before. It is the perfect length and style for dressing up or down; going on a work interview or meeting friends for lunch, even going out on a sophisticated date ;) I love how the patterns and colors are so different yet mesh together perfectly.
As put by Coach, my featured Coach dress can be described in the following way: 'With its exhilarating mix of plaid, paisley and psychedelic prints, this dress magnifies 1970s nostalgia, transforming it into something thoroughly modern. A layer of organza under the skirt holds the design's retro shape.' (Taken from Coach.com) Couldn't have phrased it better myself, I love how retro this dress is.
With the business of my dress, I paired it with the gorgeous and unique black Coach Turnlock Creeper slide shoes, #twinning with Char on this aspect of our outfits :) Repping Coach's classic turnlock, (as discussed in our intro) I love how I can just slip into these shoes and that's that... they look great with a dress (as featured) or with a simple pair of jeans and an oversized sweater. P.S. Yay, it's finally sweater weather, my fave time of the year!! Finally, I finished off my look with my mini green Coach shadow bag in pebble leather, the green color of this bag matched the colors of my dress perfectly.
// Coach Fitted Green Patterned Plaid Scarf Dress
// Coach Turnlock Creeper Slides
// Coach Green Shadow Crossbody Bag // featured bag is no longer available // similar Coach bag linked
CHARLOTTE'S LOOK:
For my retro, Coach Fall collection staple piece, I went with the Coach pink and red combo colored scarf dress with shorter sleeves than Soph's dress and a strong Western theme and feminine flair through it's color scheme and design. This dress features beautiful color and pattern contrasts with an abstract scarf design on the bottom of the dress and a feminine plaid top design with inner black lace details along the buttons, almost the exact opposite of Soph's dress pattern combo, but equally as beautiful a look. Just like Soph, I am obsessed with everything about this dress - from the practicality of it to it's unique designs and details.
As put by Coach, my featured dress can be described in the following way: "Rural Western nostalgia meets urban psychedelia in this modern approach to the mini-dress. A layer of organza under the skirt holds the design's retro shape." (Taken from Coach.com) As Soph put it, couldn't have said it better myself, LOVE the retro aspects of both of our pieces and the entire Coach collection.
#Twinning with my sissy, I paired my dress with the black Coach Turnlock Creeper slide shoes, which I am SOOO obsessed with. These shoes are simply perfect and SO my style. I can't get enough. The final touch to my outfit was my Coach red Rogue 25 mini bag which made a statement with its size and matched perfectly with the color scheme of my dress. Loving'it all <3
// Coach Fitted Pink Patterned Plaid Scarf Dress
// Coach Turnlock Creeper Slides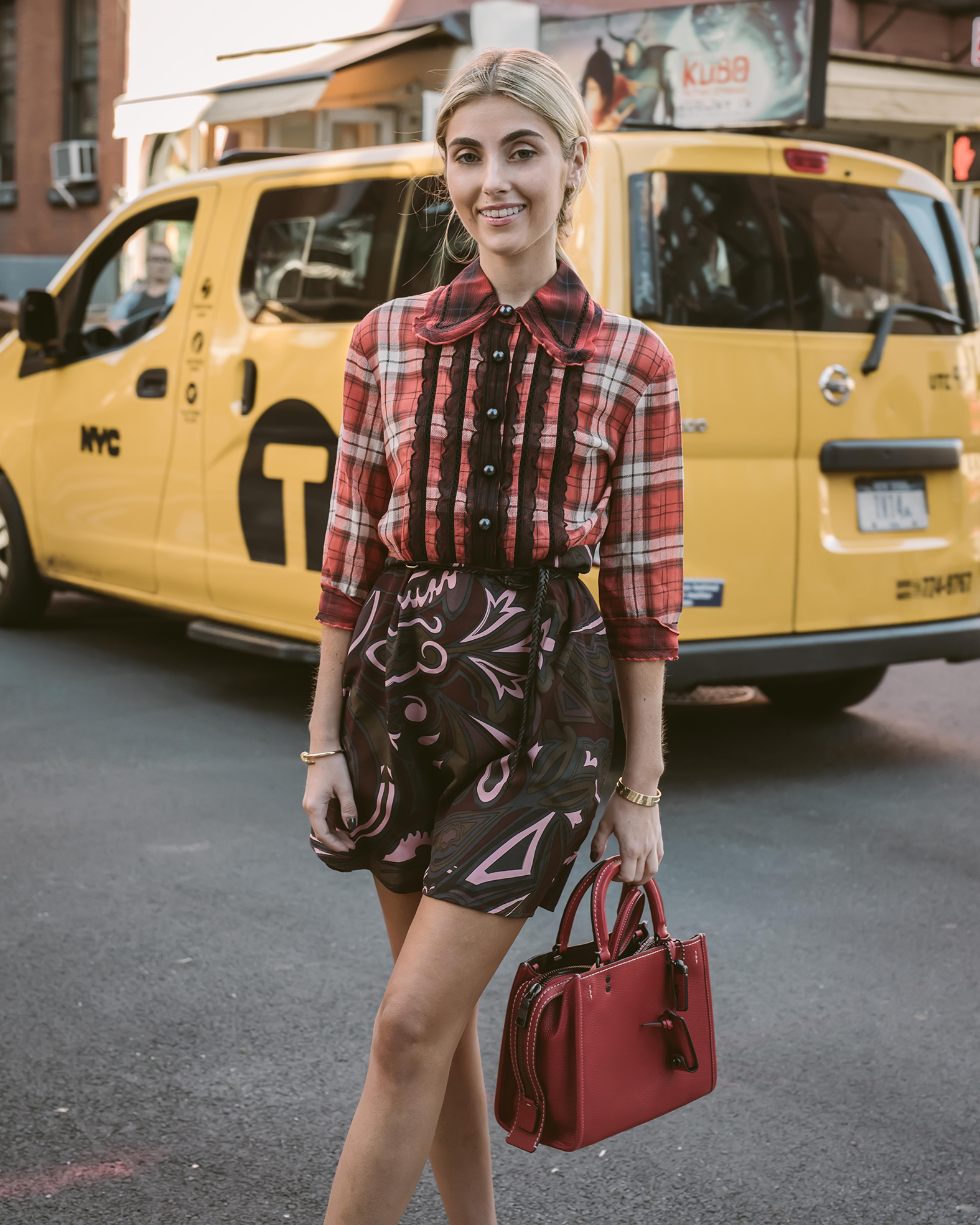 Coach is absolutely killing it right now and we see no end to the tunnel of the fabulousness we have already witnessed in regards to the brand's retro revamp. WE ARE OBSESSED WITH EVERYTHING COACH! You've got to check out their website and go to their stores ASAP, especially with the holiday season right around the corner, to get your hands on at least ONE piece of this stunning collection...for you (or a loved one) but more for you ;)
Be sure to check out below & our Shop page to shop our featured Coach looks and a WHOPPING 40 other adorable Coach looks - in Coach stores and on the Coach website RIGHT NOW!
P.S. HUGE SHOUTOUT & CONGRATULATIONS TO STUART VEVERS ON HIS NOMINATION FOR INTERNATIONAL ACCESSORIES DESIGNER AWARD AT THE BRITISH FASHION COUNCIL'S 2016 AWARD CEREMONY. You deserve it. We are rooting for you, Stuart!!! Xoxo <3
OTHER COACH LOOKS WE LOVE